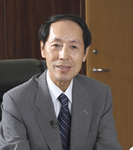 Dr. Ryozo Nagai
Chairman, Japanese Network of Cardiovascular Departments for Adult Congenital Heart Disease (ACHD)
President, Jichi Medical University
Approximately 10,000 children with congenital heart disease are born every year. If the disease is severe, surgery is required, but the outcome of surgery has not always been good in the past. Recently, advances in pediatric cardiac surgery and every effort by people involved has enabled most patients to survive to adulthood; however, even with surgery, the heart is gradually strained. Then after reaching adulthood, the patients are likely to experience heart failure and arrhythmias, so follow-up by medical specialists is mandatory. While congenital heart disease is well-understood by pediatric cardiologists, adult cardiologists have rarely been involved so far.
In 2007, there were reported to be 700,000 Japanese patients with congenital heart disease including those who survive to adulthood, and the number of patients is expected to reach 1 million soon. Such an increased number of patients cannot only be treated by pediatric doctors, and a cooperative system of both adult and pediatric cardiologists is necessary to provide thorough care. However, it is not easy to understand the condition of patients with congenital heart disease who have entered adulthood and to provide treatment including mental care for them. That's why the Japanese Network of Cardiovascular Departments for adult congenital heart disease (ACHD)was established in 2011. The committee is already performing dynamic activities such as creating case reports and a database. Through these activities, we hope that cardiologists and pediatricians who are interested in ACHD can learn from each other. We also expect that a system for cardiologists and pediatricians to help each other when necessary can be established to provide a higher level of medical care to more patients.